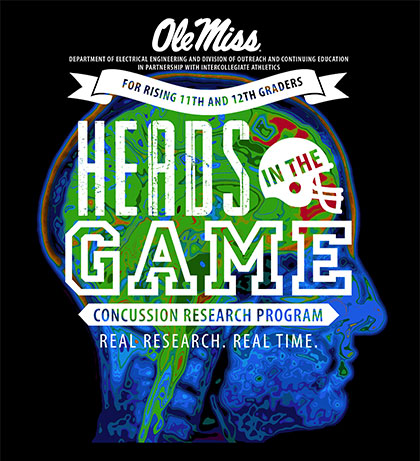 Apply Now!
Deadline to apply is April 15!
For more information, contact:
Summer College for High School Students
E.F. Yerby Conference Center
1 Grove Loop
The University of Mississippi
P.O. Box 1848
University, MS 38677
Phone: 662-915-7621
Fax: 662-915-1535
Email: summercollege@olemiss.edu
NEW!
REAL RESEARCH. REAL TIME.
FOR RISING HIGH SCHOOL JUNIORS AND SENIORS.
Heads in the Game:
A Concussion Research Program
May 29 - June 27
TEAM UP WITH US THIS SUMMER FOR A NEW CONCUSSION RESEARCH PROGRAM!
Ole Miss Athletics and The University of Mississippi Department of Electrical Engineering and Division of Outreach are excited to offer rising 11th and 12th grade students the opportunity to participate in a first-of-its-kind program researching innovative STEM approaches to care and training for all intercollegiate athletes. All fees for the program will be covered by a scholarship generously provided by X2 Biosystems. Dr. Matthew Morrison, Assistant Professor of Electrical Engineering, will direct the research. For rising juniors and seniors who love science and math AND who love sports, the Heads in the Game Concussion Research Program is the perfect storm.
Head impacts and concussions caused by contact sports are a quickly growing epidemic among young male and female athletes. The Center for Disease Control estimates that 3.8 million sports brain injuries occur annually. An overwhelming majority of these injuries go unmanaged due to a lack of real-time injury reporting. This points to an immediate need to implement on-field monitoring and increase research on the impact of concussions on young athletes.

Photos: Joshua T. McCoy/Ole Miss Athletics
In conjunction with the Ole Miss Athletics Center for Health and Sports Performance, Dr. Morrison began addressing this important issue by using X2 Biosystems impact sensors and ICE software during UM spring football practices to document collision data. During the Grove Bowl spring football scrimmage last month, players and athletic trainers gathered enough information from immediate readings to implement in-game techniques to ward off potentially damaging hits to the head. This program will help to extend the research to provide improved quality of care to all student athletes, as well as to provide area high school students a chance to improve their own skill sets and resumes.
As participants in this program:
Because we expect this multi-disciplinary program to be highly competitive, we encourage students to apply as soon as possible. Students must have a 3.0 GPA in math and science and at least a 25 on the math and science sections of the ACT. The application deadline is April 15th. The application can be found here. Students from Mississippi, Tennessee, Alabama, Louisiana, and Arkansas are encouraged to apply. After a student's completed online application is received, s/he will be asked to send a high school transcript and current class schedule to Dr. Morrison for consideration.