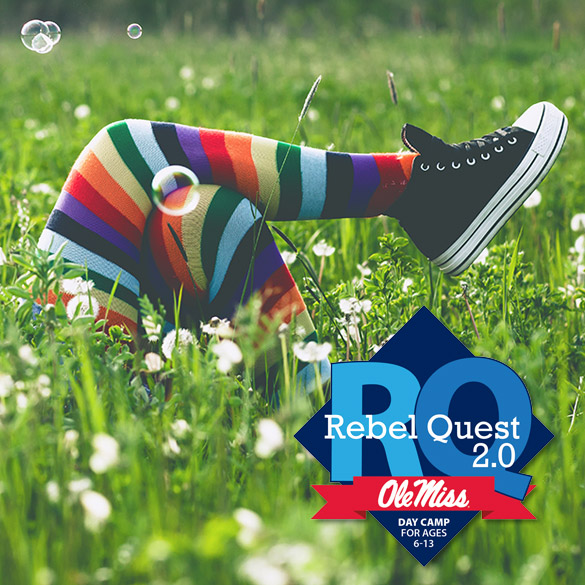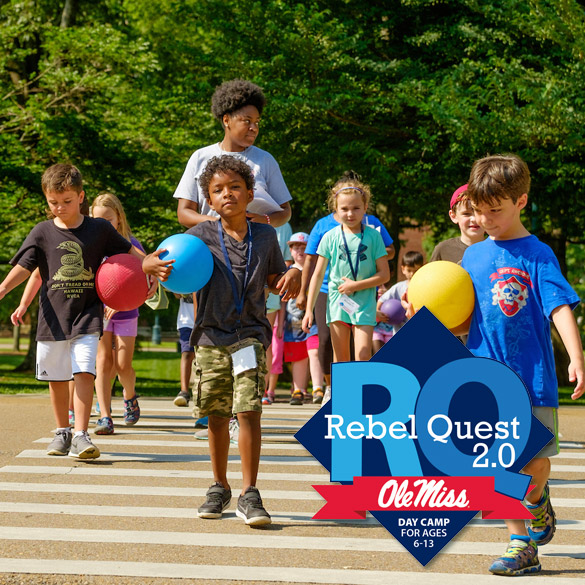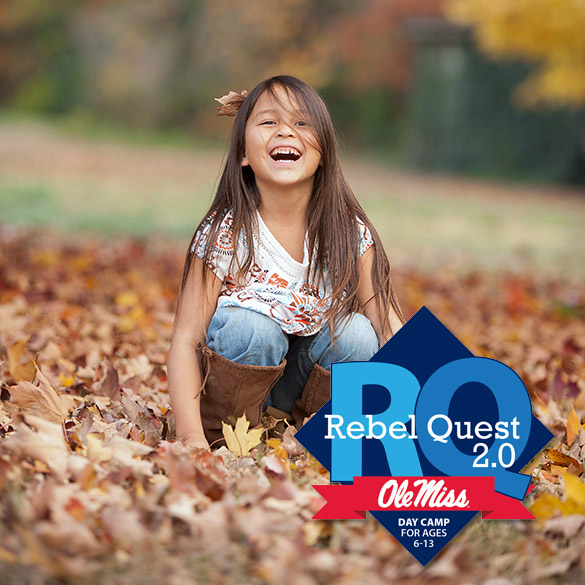 Rebel Quest
Day Camp
Rebel Quest is a day camp designed for 1st through 6th graders who want to keep their brain and body active during school breaks. Highly trained instructors and counselors lead and supervise students during Rebel Quest. The days are filled with hands on activities, reading enrichment, outdoor and indoor play, team building activities, and field trips on campus and within Oxford.
Summer 2019: 7 weekly sessions, starting June 3, 2019
Grades: 1st - 6th graders
Cost: $175
University of Mississippi Employee (full-time) Benefits Available:
Payroll Deduction – Price of day camp taken out over six (6) pay periods starting with the first payroll of July. Available until June 15th.
Pay Now with Credit Card Discount – Pay now and get $25 off the day camp price.
Location: Oxford Campus
Summer Rebel Quest
Experience Summer Fun and Learning
Summer Rebel Quest is a day camp held on the Ole Miss campus and led by highly qualified University and community instructors. Students will experience hands on learning and exploration that will encourage and motivate critical thinking. Students will explore different topics each week such as science, camping, arts, food from around the world, among other topics.
Lil' Rebels: Rising 1st - 2nd graders
Junior Rebels: Rising 3rd - 4th graders
Big Rebels: Rising 5th - 6th graders

Summer 2019 Themes:
Week 1: June 3 – 7, 2019 —Under the Sea
Come with us on an adventure under the sea! We will explore the world of whales, sharks, seahorses, and other sea creatures all while learning how and where they live. This week will be a balance of science, reading, and art! 
Week 2: June 10 – 14, 2019 — Mad Scientist 2.0
All new experiments! Mad Scientist 2.0 is full of hands on science experiments for both new and returning Rebel Quest students. We will make water walk, grow crystals, create lava lamps, construct solar powered ovens, and much more! These experiments will engage us in science, technology, engineering, and mathematics. Gloves and goggles will be provided!
Week 3: June 17 – 21, 2019 — Time Travelers
Explore the pyramids of ancient Egypt, sail on the Mayflower with the pilgrims, compete in the first Olympic Games in Greece, and more! We will travel through time to learn about historical places, people, and events. We will participate in activities and games that will seem to transport us to different times and places.
Week 4: June 24 – 28, 2019 — Food, Fun, and Fitness
Discover how much fun we can have with exercise and healthy nutrition. We will make food pyramids, learn how water and nutrition help us grow, create simple and healthy recipes, engage in age appropriate exercises, and play games that engage our minds and bodies.
Week 5: July 8 – 12, 2019 — Space is the Place
How do astronauts sleep? What is a black hole? Can we live on Mars? What is on the other side of the moon? Join us as we answer these questions during our space week! We will visit the planetarium, view space through telescopes, discover how astronauts eat and sleep, and more!
Week 6: July 15 – 19, 2019 — It's a Wild Wild World
Come with us on an adventure through the biomes of the world! We will explore the tundra, rainforest, grasslands, and much more! We will study the animals and plants that live in each of these biomes and how they survive and thrive.
Week 7: July 22 – 26, 2019 — Heroes in Action
We will explore the heroes of fantasy and fiction and meet every day heroes. Join us as we discover the heroes of fairytales and comics and meet firefighters, police officers, and other community helpers. We will learn what being a hero truly means, how to recognize the heroes around us, and how to find the hero inside of us.
Sponsoring Department: Office of Pre-College Programs
Camp Type: Day Camp
Seats Available: 20 max per age group
Fall Rebel Quest
A Mini-Summer Experience
Cost: $70
Registration Deadline: November 10, 2018
Fall Rebel Quest is a two day session held on Monday and Tuesday of Thanksgiving break on the Ole Miss campus and led by highly qualified University and community instructors. The days are filled with hands on activities, reading enrichment, outdoor and indoor play, and team building activities.
Lil' Rebels: Rising 1st - 3rd graders
Big Rebels: Rising 4th - 6th graders
Sponsor Department: Office of Pre-College Programs
Camp Type: Day Camp
Seats Available: 20 max per age group
June 5-9, 2017 - Mad Scientist
Do you dare to become a mad scientist as we experiment in our science lab? This week is full of hands on science experiments, focusing on the STEM curriculum of science, technology, engineering, and mathematics. Gloves and goggles will be provided!
June 12-16, 2017 Gamer
Join us as we play games- indoors and out- and learn about the history of traditional games. We will be competing in board games, chess, checkers, dodge ball, double Dutch, four square, kickball, Lego competitions, and more!
June 19-23, 2017 - Keep Calm and Camp
Calling all nature lovers! Join us as we explore all things camping. This week is for the outdoors lover, as we will participate in a survival course, hike Whirlpool Trails, go on a nature scavenger hunt, take on the Rebel Challenge Course, and watch a kayaking and canoe demonstration.
June 26-30, 2017 - All About Oxford
We are off to explore Oxford on a guided tour, a walk through Faulkner Woods, a visit to Rowan Oak, and a scavenger hunt on the Ole Miss campus. The fun does not stop there! We will also tour the Ole Miss Indoor Practice Facility and the Ole Miss Pavilion.
July 10-14, 2017 - It's A Small World After All
We will travel to the seven continents this week as we learn about different traditions and customs around the world. Try out a new language, foreign foods, cultural art projects, and visit with guest speakers as we take virtual field trips.
July 17-21, 2017 Food Fusion
Calling all foodies! It is okay to play with your food this week. Get ready to join in on the food fun as we create new recipes, get our hands dirty with food science experiments, and sample different cuisine.
July 24-28, 2017 All About Art
Future artists are welcome as we paint, sculpt, and craft new creations this week. We will focus on different mediums of art and visit with local artists to learn about their craft.
7:30 – 8:00 a.m. – Morning Drop Off (Lamar Hall)
8:00 – 10:00 a.m. – Classroom Activity related to Weekly Camp Theme
10:00 – 11:00 a.m. – Snack Break/Outside Activity
11:00 – 12:00 p.m. – Lunch Break (Rebel Quest will provide lunch for campers on Fridays)
12:00 – 2:30 p.m. – Classroom Activity related to Weekly Camp Theme
2:30 – 3:00 p.m. – Snack Break
3:00 – 4:15 p.m. – Outdoor Activity or Swimming at the Turner Center
4:15 – 5:00 p.m. – Daily Wrap Up/Classroom Activity related to Weekly Camp Theme
5:00 – 5:30 p.m. – Afternoon Pick-Up (Lamar Hall)
Registration for a camp or program is a two-part process – the online registration form and additional documentation. Both parts must be submitted to our office before a student is confirmed for enrollment in the program.
Register Online

Step 1: Go to the online registration portal.
Step 2: Click "Add Camp to Cart."
Step 3: Enter the Student's Information and click "Continue."
Step 4: Review your Cart Information and click "Checkout."
Enter your email address and click "Continue Unregistered."
Select the appropriate payment method and follow the prompts to complete the payment transaction. If you have a discount/scholarship code, you can enter it on the right side of the page and click "Apply."
Step 5: Enter the Parent/Guardian and Emergency Contact Information. Click "Submit." You will receive an emailed receipt and confirmation of registration. Please retain a copy of this receipt for your reference and tax purposes.

Submit Medical Form

We value the safety and well-being of all our participating students. In the case emergency or medical attention is required, ALL camps and programs require parents to submit medical forms on behalf of the student. Please DO NOT forget to return this form to our office as this will hold up the registration process for your student. If you have already submitted the medical form for a camp this summer, you will not have to submit it again. We do not retain medical documentation from previous summers.
Step 1: Download and complete the Summer Medical Form (at top of page) with the appropriate student and parent information.
Step 2: Attach a copy of:

Student's insurance card,
Parent's driver's license
Shot records with the last Tetanus Immunization or Booster Shot, and
Any other medical documents needed to seek treatment

Step 3: Send the form and attachments to our office at: Outreach and Continuing Education, Office of Pre-College Programs, The University of Mississippi, P.O. Box 1848, University, MS 38677-1848.

For the security of you and your student's information, please do not email or fax medical forms to our office. We request that you mail or bring the forms to our office.

Submit Agreement

The Office of Pre-College Programs has set guidelines and rules in place for the safety of the students participating in our camps and programs. Please review these guidelines and rules and discuss with your student(s) before the first day of the program. The Agreement Form is available at the top of the page.
What does my child need to bring every day?
Each day your child needs to bring:
Lunch with ice pack
Special Medications, if any, with instructions
Twice a week, students swim in the afternoon at the Turner Center. On these days, students will need:
Swimsuit
Towel
Bag to put wet items in
What should my child wear?
We will be outside and active as much as possible, so your child should wear athletic shoes (which do not include Crocs) and comfortable, casual outfits that are appropriate for outdoor play. Girls should avoid wearing dresses, if possible, and everyone needs sunscreen!
Where will my child be all day?
Students will be in Lamar Hall, the Grove, and visiting other locations on campus. Children will be going to the Grove each day for outdoor activities, as well as to different athletic facilities in and around the Turner Center. At the beginning of each week, the instructors will post an agenda and where the students will be on certain days. Also, parents will be given the lead instructor's cell phone number in the event of an emergency.
What will my child do all day?
The instructors for Rebel Quest are all certified teachers and have designed a curriculum to entertain and educate your child. Because our instructors have specialized interests, each day of camp will be dynamic and new. Students will be learning something new and have tons of fun doing it. We will be moving all day long; they will not be bored!
How will my child be supervised?
Students will have two Rebel Quest counselors, one of each gender, with the group at all times, plus the Lead instructor of each given session. All of our staff is CPR/First Aid certified, have submitted to background checks, and have completed the UM Supervision of Minors training.
What if there is an emergency?
In the event of an emergency, counselors and instructors will first attempt to contact the parents, and if they are unavailable, the emergency contact person will be called, as well as any emergency personnel if needed.
For additional information, please contact:
Address: Outreach and Continuing Education, Office of Pre-College Programs, The University of Mississippi, P.O. Box 1848, University, MS 38677-1848
Phone: (662) 915-7621
Fax: (662) 915-1535
Email: precollege@olemiss.edu