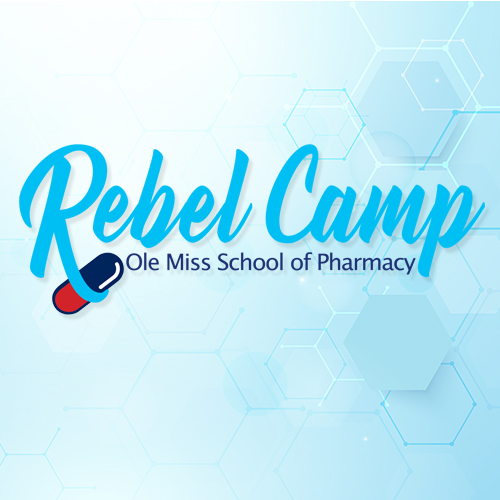 ℞ebel Camp: Intro to Pharmacy Careers
Dates: May 31 - June 5 and July 5 - 10, 2020
Grades: Rising 9th - 12th grades
Cost: $700 Residential / $400 Commuters What's included in the cost?
Applications Due: May 1, 2020
Applications will be reviewed in batches on a rolling basis with acceptance notifications sent on the following dates: March 31, April 30, and May 31. If accepted, applicants will receive registration information via email.
The University of Mississippi School of Pharmacy invites you to experience the diversity of careers available within this broad field through a one-week workshop hosted by faculty, staff, and alumni. Students will gain hands-on practice in the compounding lab, solve a "pharmacy mystery" applying mathematical skills, observe alumni at work in a variety of professional settings, and learn firsthand about the field from faculty presenters. The camp will also include tours of our state-of-the-art research facilities on campus including the National Center for Natural Products Research and the Medicinal Plant Garden.
Sponsoring Department: The School of Pharmacy
Camp Type: 1 Week Residential or Commuter, non-credit
Seats Available: 24 max
Eligibility
Be in good academic and conduct standing at the time of admission. The school can be public, private, parochial, or even home educated.
Complete the online application.
This camp is eligible for CREATE scholarships. You must be a resident of Pontotoc, Union, or Lee counties, and attending a public school, to be eligible for the scholarship made available through the Toyota Wellspring Fund at the CREATE Foundation. Scholarships cover the entire cost of attending select camps. Each individual may qualify for only one scholarship per summer.
#WorkforceDevelopment #STEM #ProblemSolving #Teamwork
Day of the Week
Morning Activities
8:00am – 12:00pm
Afternoon Activities
1:00pm – 4:30pm
Sunday
Move-In, Orientation
Monday
Tuesday
Wednesday
Thursday
Friday
Move-Out
Daily Hours: Monday-Thursday, 8:00 AM-4:30 PM; Friday, 8:00 AM-2:00 PM
Move-in for residential students will be the Sunday prior to the camp's beginning. Details will be sent by email two weeks beforehand.
Lunch will be provided at Rebel Market for all students.
Residential students will live in the Residential College South, supervised by live-in counselors. All counselors are undergraduate students trained in the supervision of minors and background-checked. Evening recreational activities may include use of the campus recreational center, board games, and trips to locations on campus or in town.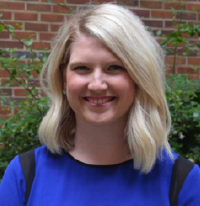 Lindsey Cooper is an admissions counselor for the Early Entry program at the University of Mississippi School of Pharmacy. Originally from Fulton, Mississippi, Cooper graduated from Ole Miss in 2009 with a bachelor's degree in psychology and got her master's degree in school counseling from Mississippi State University in 2011. After six years as a guidance counselor at an elementary school, she spent a year in the Ole Miss Office of Admissions as an admissions counselor before joining the School of Pharmacy. With the Early Entry program, Lindsey guides high school students through the process of applying for Early Entry into the pharmacy school.
To register for this program, students must first be accepted into the program by the admissions committee. Once accepted, students will receive their acceptance notification via email with a special admissions code and instructions on how to register for the program.
Registration for a camp or program is a two-part process – the online registration form and additional documentation. Both parts must be submitted to our office before a student is confirmed for enrollment in the program.
Register Online

Step 1: Go to the online registration portal.
Step 2: Select the appropriate options and click "Add Event to Cart."
Step 3: Review your Cart Information and click "Checkout."
Enter your email address and click "Continue Unregistered."
Select the appropriate payment method and follow the prompts to complete the payment transaction. If you have a discount/scholarship code, you can enter it on the right side of the page and click "Apply."
Step 4: Enter the Student's Information, Parent/Guardian, Emergency Contact, and additional information. Click "Submit." You will receive an emailed receipt and confirmation of registration. Please retain a copy of this receipt for your reference and tax purposes.

Submit Medical Form

We value the safety and well-being of all our participating students. In the event that any emergency or medical attention arises, ALL camps and programs require parents to submit medical forms on behalf of the student. Please DO NOT forget to return this form to our office as this will hold up the registration process for your student. If you have already submitted the medical form for a camp this summer, you will not have to submit it again. We do not retain medical documentation from previous summers.
Step 1: Download and complete the Summer Medical Form (PDF link at top of page) with the appropriate student and parent information.
Step 2: Attach a copy of:

Student's insurance card,
Parent's driver's license
Any other medical documents needed to seek treatment

Step 3: Send the form and attachments to our office at: Outreach and Continuing Education, Office of Pre-College Programs, The University of Mississippi, P.O. Box 1848, University, MS 38677-1848.
For the security of you and your student's information, please do not email or fax medical forms to our office. We request that you mail or bring the forms to our office.

Submit Agreement

The Office of Pre-College Programs has set guidelines and rules in place for the safety of the students participating in our camps and programs. Please review these guidelines and rules and discuss with your student(s) before the first day of the program. The Agreement Form is available at the top of the page.
Commuter Student Information
Orientation

Students, including commuters, and their parents will attend a program orientation. The program director and summer staff will go over the details of the week, important guidelines and rules of the program, and additional information related to the program.

Daily Check-In/Out

Each day, Monday-Friday, commuting students will be dropped off at a designated location on campus. The parent will check-in the student with a summer counselor and provide a contact number for the day.
Residential Student Information
Move-In

Residential students will move into the residence hall on a Sunday afternoon. Students will receive a room card, a meal card, and Welcome Home pack at the check-in table.

Orientation

Students, including commuters, and their parents will attend a program orientation. The program director and summer staff will go over the details of the next two weeks, important guidelines and rules of the program, and additional information related to the program.

Move-Out

Residential students will move out of the residence hall after class and the final exam or parent presentation are over on the last Friday at 12:00 noon.
Students will be required to complete a Check-Out Form and Room Inspection before departing the program.

Medical Care and Safety

All students participating in a camp or program offered by the Office of Pre-College Programs must complete and return a Summer Medical Form with required documentation (e.g. shot records, insurance card, parent's driver's license). This form grants our office the ability to seek medical treatment for a student that is sick or injured. Students lacking this form by the first day of a program will not be able to participate until full documentation is submitted – no exceptions will be made to this policy.
Due to their age, students are not allowed access to the V.B. Harrison Student Health Center on campus. Students requiring non-emergency medical care between the hours of 9 a.m. and 7 p.m. will be transported to an urgent care facility with parent's approval. There is not an after hours medical clinic in Oxford, so students requiring medical care after 7 p.m. and before 9 a.m. are transported to the emergency room at Baptist Memorial Hospital-North Mississippi with parent's approval.
Supervision of Minors. The University of Mississippi and the Office of Pre-College Programs values the safety of all of our students. Our staff and counselors undergo extensive training and complete background checks before our summer camps and programs begin. Our office has policies and guidelines set in place to effectively supervise and ensure the safety of all students under our care. For more information on this policy, please visit http://eorc.olemiss.edu/minors/.
For additional information, please contact:
Address: Outreach and Continuing Education, Office of Pre-College Programs, The University of Mississippi, P.O. Box 1848, University, MS 38677-1848
Phone: (662) 915-7621
Fax: (662) 915-1535
Email: precollege@olemiss.edu