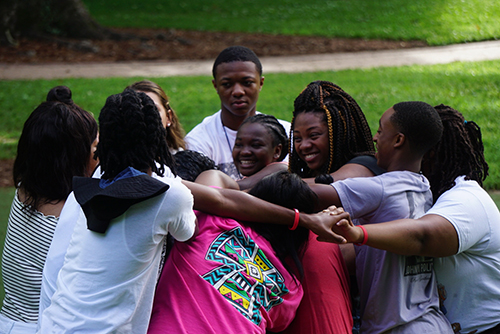 McLean Entrepreneurial
Leadership Program
Dates: July 5-10, 2020
Grades: Rising 9th-12th Grades *Available to Mississippi residents only.
Cost: $550 Residential / $350 Commuter What's included in the cost?
Registrations Due: June 1, 2020
The purpose of the McLean Entrepreneurial Leadership Program is to foster dialogue about how Mississippi can utilize resources through the University of Mississippi to address some of the state's most pressing needs. Outcomes of the program are designed to help stimulate business in local communities, improve educational systems, and strengthen the conversation between the university and community members.
This camp may appeal to: students interested in community service and civic engagement, leadership, local economic development; aspiring social entrepreneurs, economists, political leaders, rural and urban planners, small business owners, journalists, and public policy analysts.
Sponsoring Department: The McLean Institute for Public Service and Community Engagement
Camp Type: 1 Week Residential or Commuter, non-credit
Seats Available: 24 max
Eligibility
Be in good academic and conduct standing at the time of admission. The school can be public, private, parochial, or even home educated.
Complete the online application.
The summer institute will focus on four main areas with central focus being Entrepreneurial Project:
1. Entrepreneurship
Small businesses constitute 99.7 percent of U.S. employer firms and produce 64 percent of new private sector jobs. Mississippi lags behind comparative states in job creation, and the economy is hampered by a host of issues. Using the experience of business leaders in the community and the expertise of the University's faculty, groups of students will study, discuss, and plan feasible and socially beneficial businesses.
2. Environmental Sustainability
As the future stewards of the state's and planet's resources, the next generation must understand the consequences of the choices that consumers make every day. By meeting with local nonprofits who are attempting to reduce waste, reading and interacting with literature on the subject, and discussing potential solutions, students will not only better understand their environmental impacts, but they will also be better prepared to address those issues. Students will also have the opportunity to learn from and interact with local farms that are pioneering sustainable farming methods.
3. Health and Wellness
More than a third of Mississippi's residents are medically obese, ranking the state amongst the country's worst; therefore, it is imperative that the next generations of state leaders understand the ramifications of the issue. Likewise, they must be exposed to entities, like Good Food for Oxford Schools, which are attempting to educate and assist students in making healthy food decisions.
4. Data & Demographics
We now live in a world rich in data. From Census Tract data to American Community Survey information, today's decision-makers have unprecedented access to a treasure trove of information. However, many students are leaving high school with little knowledge of how to access and utilize this data. By exposing students to the resources available to them, and then structuring a project that encourages them to use this new information, this summer program will help prepare students to make informed decisions.
As of now, the tentative weekly plan for the event will focus on classroom discussion, reading, and lecture regarding each respective topic coupled with field visits to members of the Oxford-Lafayette County community. By exposing students to ideas, and then demonstrating how innovators are creating solutions in the field, the goal is to allow students to see problem-solving in action.
Main Focus: Entrepreneurial Project
With entrepreneurship as the central focus of the week, students will be required to complete a week-long project with the goal of having students generate a simple, yet feasible, business plan. This project will be completed in conjunction with faculty and community members with the intention of allowing students to actively practice the skills that they acquired throughout the week.
Day of the Week
Morning Activities
8:00am – 12:00pm
Afternoon Activities
1:00pm – 4:30pm
Sunday
Move-In
Orientation
Monday
Tuesday
Wednesday
Thursday
Friday
Move-Out
Daily Hours: Monday-Thursday, 8:00 AM-4:30 PM; Friday, 8:00 AM-2:00 PM
Move-in for residential students will be the Sunday prior to the camp's beginning. Details will be sent by email two weeks beforehand.
Lunch will be provided at Rebel Market for all students.
Residential students will live in the Residential College South, supervised by live-in counselors. All counselors are undergraduate students trained in the supervision of minors and background-checked. Evening recreational activities may include use of the campus recreational center, board games, and trips to locations on campus or in town.
Registration for a camp or program is a two-part process – the online registration form and additional documentation. Both parts must be submitted to our office before a student is confirmed for enrollment in the program.
Register Online

Step 1: Go to the online registration portal.
Step 2: Select the appropriate options and click "Add Event to Cart."
Step 3: Review your Cart Information and click "Checkout."
Enter your email address and click "Continue Unregistered."
Select the appropriate payment method and follow the prompts to complete the payment transaction. If you have a discount/scholarship code, you can enter it on the right side of the page and click "Apply."
Step 4: Enter the Student's Information, Parent/Guardian, Emergency Contact, and additional information. Click "Submit." You will receive an emailed receipt and confirmation of registration. Please retain a copy of this receipt for your reference and tax purposes.

Submit Medical Form

We value the safety and well-being of all our participating students. In the event that any emergency or medical attention arises, ALL camps and programs require parents to submit medical forms on behalf of the student. Please DO NOT forget to return this form to our office as this will hold up the registration process for your student. If you have already submitted the medical form for a camp this summer, you will not have to submit it again. We do not retain medical documentation from previous summers.
Step 1: Download and complete the Summer Medical Form (PDF link at top of page) with the appropriate student and parent information.
Step 2: Attach a copy of:

Student's insurance card,
Parent's driver's license
Any other medical documents needed to seek treatment

Step 3: Send the form and attachments to our office at: Outreach and Continuing Education, Office of Pre-College Programs, The University of Mississippi, P.O. Box 1848, University, MS 38677-1848.
For the security of you and your student's information, please do not email or fax medical forms to our office. We request that you mail or bring the forms to our office.

Submit Agreement

The Office of Pre-College Programs has set guidelines and rules in place for the safety of the students participating in our camps and programs. Please review these guidelines and rules and discuss with your student(s) before the first day of the program. The Agreement Form is available at the top of the page.
For additional information, please contact:
Address: Outreach and Continuing Education, Office of Pre-College Programs, The University of Mississippi, P.O. Box 1848, University, MS 38677-1848
Phone: (662) 915-7621
Fax: (662) 915-1535
Email: precollege@olemiss.edu