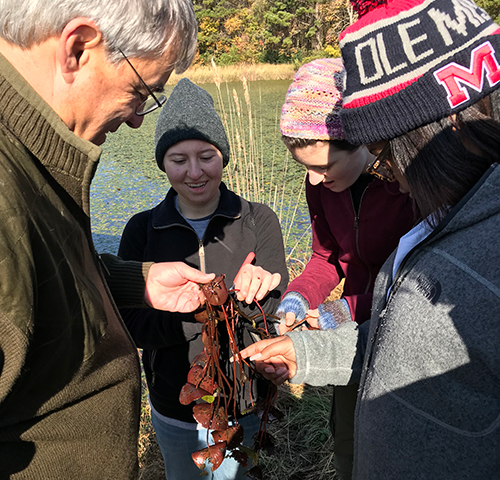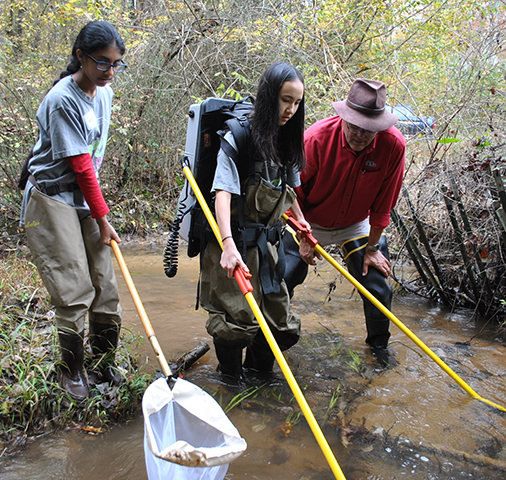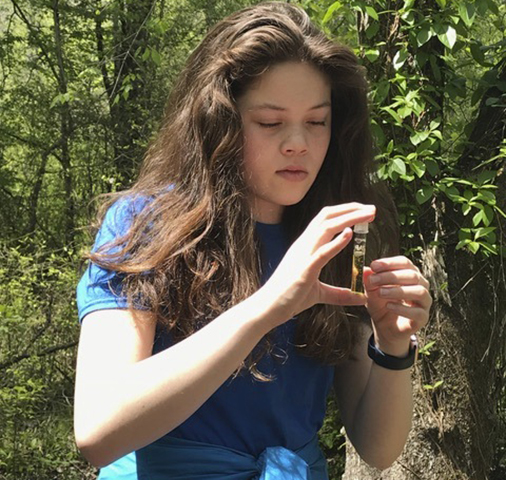 Environmental Science
Youth Leadership Program
Dates (Times may change slightly as we confirm presenters)
October 12, 9:30 am – 2:00 pm
November 9, 9:00 am – 1:00 pm
November 23, 10:00 am – 2:00 pm
January 25, 10:00 am – 4:00 pm
February 22, 11:00 am – 3:00 pm
March 21, 6:30 pm – 10:00 pm
May 2, 9:30 am – 12:00 pm: Final Presentations
Cost: $50
Some students may be eligible for a fee waiver. Please submit this form to our office.
This is a selective program. Applications are due by September 15th. Admitted students will be informed by September 22nd.
The Environmental Science Youth Leadership Program will offer a select number of 8th-10th graders opportunities to explore environmental science hands-on through field activities guided by University of Mississippi faculty and staff. Settings will include the UM Field Station, Strawberry Plains, and the UM campus labs. Areas of study and activity will include:
Zooplankton and rotifers
Life in the leaf litter
Studying macroinvertebrates in varying habitats
Electrofishing
Winter birds
Spring night life
Amphibians
The program will meet 6 Saturdays throughout the academic year with a final presentation in May. Transportation out to the Field Station or to any other location outside of Oxford will be provided by the program.
1. Apply online
Step 1: Go to the online registration portal at the top of the page.
Step 2: Select program and click "Add Camp to Cart."
Step 3: Enter your information and click "Continue."
Step 4: Review your cart information and click "Checkout."
Enter your email address and click "Continue Unregistered."
Select the appropriate payment method and follow the prompts to complete the payment transaction. If you have a discount code, enter it on the right side of the page and click "Apply."
Step 5: Enter the parent/guardian and emergency contact information. Click "Submit."
You will receive an emailed confirmation of application.
2. Submit the Commitment/Consent Form
Download the Commitment/Consent Form that outlines expectations for the program. Both students and parents need to sign the Commitment/Consent Form and email, mail, fax, or upload the document to our office.
3. Submit Medical Form
We value the safety and well-being of all our participating students. In case emergency medical attention is required, ALL Pre-College Program camps require parents to submit medical forms on behalf of the student.
Step 1: Download and complete the Medical Form with the appropriate student and parent information.
Step 2: Attach a copy of:

Student's insurance card
Parent's driver's license
Shot records with the last Tetanus Immunization or Booster Shot
Any other medical documents needed to seek treatment

Step 3: Sign and date the Medical Form.
Step 4: Send the form and attachments to our office at: Outreach and Continuing Education, Office of Pre-College Programs, The University of Mississippi, P.O. Box 1848, University, MS 38677-1848.
Please do not email medical forms to our office. We request that you mail, fax, or bring the forms to our office.
Dates (Times may change slightly as we confirm presenters)
October 12, 9:30 am – 2:00 pm
November 9, 9:00 am – 1:00 pm
November 23, 10:00 am – 2:00 pm
January 25, 10:00 am – 4:00 pm
February 22, 11:00 am – 3:00 pm
March 21, 6:30 pm – 10:00 pm
May 2, 9:30 am – 12:00 pm: Final Presentations
For additional information, please contact:
Address: Outreach and Continuing Education, Office of Pre-College Programs, The University of Mississippi, P.O. Box 1848, University, MS 38677-1848
Phone: (662) 915-7621
Fax: (662) 915-1535
Email: precollege@olemiss.edu