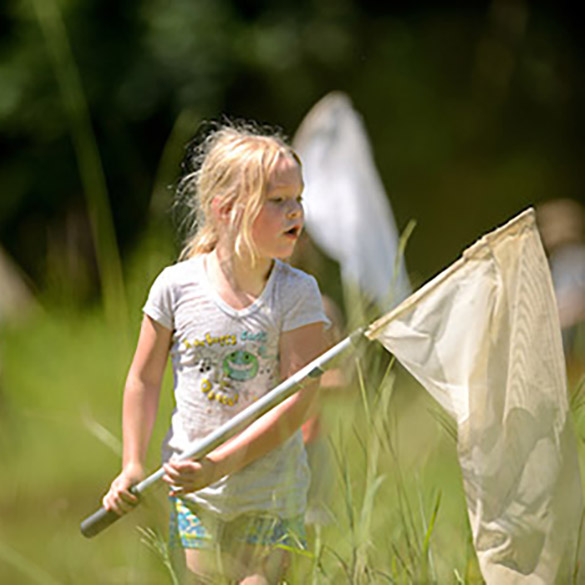 Ecology Day Camp
A Hands-On Experience at the Field Station
Dates:

Week 1: Birds and Bugs: June 3-7 (Rising 4th-6th Grades)
Week 2: Water World: June 10-14 (Rising 4th-6th Grades)
Week 3: Birds and Bugs: June 17-21 (Rising 1st-3rd Grades)
Week 4: Water World: June 24-28 (Rising 1st-3rd Grades)
Week 5: Birds and Bugs: July 8-12 (Rising 1st-3rd Grades)
Grades: Rising 1st - 6th graders
Cost: $175
University of Mississippi Employee (full-time) Benefits Available:
Payroll Deduction – Price of day camp taken out over six (6) pay periods starting with the first payroll of July. Available until June 15th.
Pay Now with Credit Card Discount – Pay now and get $25 off the day camp price.
Location: Oxford Campus
Registrations Due: Two weeks before the each start date
Explore the great outdoors in a whole new way and learn what you can do to protect our wild places. The UM Field Station offers classroom and lab settings indoors as well as the benefits of an active field research site. Campers will study birds, bugs, amphibians, reptiles, and aquatic creatures with the guidance of certified educators and conservation professionals. Activities vary with weekly themes but may include collecting and identifying plants and animals, spotting evidence of animal activities in the field station woods, comparing habitats, water sampling, using microscopes or scientific instrumentation, and creating art with natural materials. Daily snacks will be provided.
The Field Station is located at 15 Co Rd 202, Abbeville, MS 38601, just 20 minutes from downtown Oxford.
Sponsor Department: UM Biology Field Station and Office of Pre-College Programs
Camp Type: Day Camp
Seats Available: 20 max
Daily drop-off and pick-up schedule
| | |
| --- | --- |
| Time | Event |
| 7:30 – 8:00 a.m. | Morning Drop Off (UM Field Station, 15 County Road 2078, Abbeville) |
| 8:00 a.m. - 5:00 p.m. | Ecology Day Camp Activities |
| 5:00 - 5:30 p.m. | Afternoon Pick Up (UM Field Station, 15 County Road 2078, Abbeville) |
Registration for a camp or program is a two-part process – the online registration form and additional documentation. Both parts must be submitted to our office before a student is confirmed for enrollment in the program.
Register Online

Step 1: Go to the online registration portal.
Step 2: Click "Add Camp to Cart."
Step 3: Enter the Student's Information and click "Continue."
Step 4: Review your Cart Information and click "Checkout."
Enter your email address and click "Continue Unregistered."
Select the appropriate payment method and follow the prompts to complete the payment transaction. If you have a discount/scholarship code, you can enter it on the right side of the page and click "Apply."
Step 5: Enter the Parent/Guardian and Emergency Contact Information. Click "Submit." You will receive an emailed receipt and confirmation of registration. Please retain a copy of this receipt for your reference and tax purposes.

Submit Medical Form

We value the safety and well-being of all our participating students. In the case emergency or medical attention is required, ALL camps and programs require parents to submit medical forms on behalf of the student. Please DO NOT forget to return this form to our office as this will hold up the registration process for your student. If you have already submitted the medical form for a camp this summer, you will not have to submit it again. We do not retain medical documentation from previous summers.
Step 1: Download and complete the Summer Medical Form (at top of page) with the appropriate student and parent information.
Step 2: Attach a copy of:

Student's insurance card,
Parent's driver's license
Shot records with the last Tetanus Immunization or Booster Shot, and
Any other medical documents needed to seek treatment

Step 3: Send the form and attachments to our office at: Outreach and Continuing Education, Office of Pre-College Programs, The University of Mississippi, P.O. Box 1848, University, MS 38677-1848.

For the security of you and your student's information, please do not email or fax medical forms to our office. We request that you mail or bring the forms to our office.

Submit Agreement

The Office of Pre-College Programs has set guidelines and rules in place for the safety of the students participating in our camps and programs. Please review these guidelines and rules and discuss with your student(s) before the first day of the program. The Agreement Form is available at the top of the page.
For additional information, please contact:
Address: Outreach and Continuing Education, Office of Pre-College Programs, The University of Mississippi, P.O. Box 1848, University, MS 38677-1848
Phone: (662) 915-7621
Fax: (662) 915-1535
Email: precollege@olemiss.edu