Free Meditation Courses Offered at UM Next Month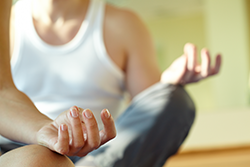 OXFORD, Miss.— The University of Mississippi's Communiversity enrichment classes program will offer a free course for community members next month who are interested in improving their health through the practice of meditation.
Studies show that regular meditation can provide many health benefits such as calming the nervous system, releasing negative thought patterns and emotions, and increasing overall well being. Meditation is about stilling yourself, focusing, and opening yourself up. This class will guide you in basic techniques and support you in beginning your own regular meditation practice.
Meditation expert Wend Stewart will lead the class on the Ole Miss campus Wednesdays, Sept. 14 and 21 in the Human Resources Training and Development Room at Insight Park located to the west of the roundabout on Hathorn Road.
For more information, please visit: www.outreach.olemiss.edu/communiversity
or call 662-915-7158.