Lott Summer Leadership Institute
Academics
Participants enroll in the following two courses:
Political Science 101, Introduction to American Politics (3 credit hours). The course emphasizes constitutional principles of the U.S. government. Students will investigate political procedures, electoral processes, and political institutions.
Speech 102, Fundamentals of Public Speaking (3 credit hours). In this course students will learn how to organize, prepare, and deliver speeches in a variety of public forums.
Washington, D.C. Trip
To enhance their studies at the University, Lott Leadership Institute students will travel to Washington, D.C. for a five-day visit (not including two travel days). While in D.C., participants will visit with federal officials, including U.S. Representatives and Senators. Students will also tour the Capitol, the National Archives, the Smithsonian, and various other attractions of the capital city. Additionally, participants will visit with leaders in industry and in the nonprofit sector.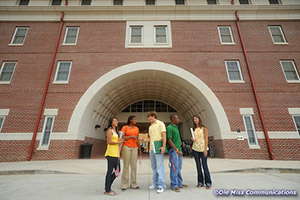 Residential Life
Students accepted to the program will be housed with the Summer College for High School Students in one of the University's residential colleges. Adult staff as well as selected student counselors who serve as mentors to the participants will supervise them. While in Washington, participants will be closely supervised by University staff and student counselors. The group will travel together and be housed in a secure setting.
Residential life on campus includes evening community-time activities led by counselors and off-campus trips on weekends. Lott Leadership students enjoy the opportunity to mingle with Rebel Research, StarTalk, and Summer College students, savor the many dining options at Oxford Square, test themselves at the university's Ropes Challenge Course, visit Memphis or Birmingham on the weekends, and stay fit at the Turner Recreational Center.  Student-led events like the International Ice Cream Social provide cultural enrichment and leadership opportunities.

What Students are Saying
Former participants have shared their feedback with us. Take a look!
---
"I had a great experience that I wish every single rising senior in the nation could experience. It is something I will never forget."
"I will always recommend my peers to do this program - whether they are interested in public policy or not - because it left such an impact on me."
"The people I've met there I will always hold close to my heart. The Lott Leadership program was without a doubt the best 5 weeks of my life."