Lott Summer Leadership Institute
Admitted Students
Ole Miss and Oxford Information
About Ole Miss 
Founded in 1848, the University of Mississippi, better known as Ole Miss, is the flagship university for the State of Mississippi. An R-1 (Doctoral Universities-Highest Research Activity) public university, the institution has a long history of producing leaders in public service, academics and innovative research. With more than 21,500 students, Ole Miss is the state's largest university, with a major medical school, a nationally recognized law school, and 15 academic divisions including engineering, pharmacy, and numerous majors in the liberal arts. It has been ranked as one of America's best college buys by Forbes and one of the best places to work by the Chronicle of Higher Education. The university's Honors College has also been named one of America's finest.
The University of Mississippi has a variety of academic institutes providing resources and opportunities. These institutes give students insights on global perspectives as they learn to become leaders and receive real-world community-building experience.
Getting to the University of Mississippi 
All students must make their own arrangements to arrive and depart campus. Students must check in between 12:00 pm and 2:00 pm on move-in day. If a student drives to campus and plans to keep their vehicle, they must obtain a parking pass from the Department of Parking and Transportation.
The closest major airport is Memphis International Airport. We offer shuttles free of charge from Memphis International Airport. More information is provided in the Shuttle Section.
Shuttle Information and Request
The Office of Pre-College Programs offers airport shuttles for students participating in any of our summer programs. We offer airport shuttles at a cost of $25 US per student, one-way from the Memphis International Airport the day before or the morning of the official move-in date. If a student needs transportation from the airport to campus, they must complete the shuttle request form at least 5 business days before arrival.
Please note that for safety reasons, we do not schedule shuttles for flights arriving or departing after 10:00 PM or before 8:00 AM. We suggest you plan your flight within our shuttle availability.
All students utilizing the shuttle service will meet at Baggage Claim B at the Memphis International Airport. After providing us with your flight information, you will receive a shuttle confirmation email with details about your shuttle time and an emergency contact number.
For questions or concerns, please contact our office at precollege@olemiss.edu or call (662) 915-7621.
Housing
Summer College students will live on campus during the program. Students will stay in Residential College South, a contemporary residence hall on the east side of the Ole Miss campus. 
Students will live in a double room with another Summer College student. Roommate selections are based on our SCHS Learning Style Questionnaire (available in the SCHS Supplemental Application packet). Each double room has its own bathroom with shower and a mini-fridge. Example of a double room is available below.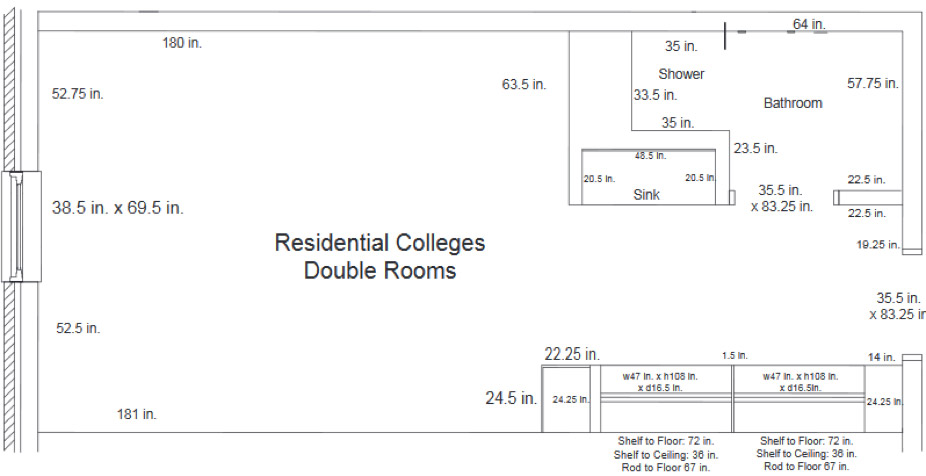 Move-In Information
On move-in day, students will check-in to receive their room assignment, class schedule, required book list, and their Ole Miss ID that provides access to their rooms and meal plan. Orientation will be held at 2:30 pm. Details will be provided prior to arrival.
Official move-in dates:
| | | | |
| --- | --- | --- | --- |
| First Session | Registration | Second Session | Registration |
| May 24 | 1:00 pm | June 22 | 1:00 pm |
Orientation
Orientation typically occurs at 3:30 pm on move-in day. It is mandatory for all students to attend Summer College orientation, and we strongly recommend that a parent or guardian attends as well. Important information about program policies, rules, financial aid, and safety are presented in this session. Details will be provided prior to arrival.
For more specific questions regarding arrival, please contact our office.
Suggested items to bring
Students should bring the following items*:
Bedding for an extra-large twin bed
Personal bath supplies (soap, toothpaste, toilet paper, etc.)
Any medication taken regularly
Hangers
School supplies (notebooks, pens, etc.)
Laundry detergent
Cleaning supplies (broom, cleaning wipes, toilet brush, etc.)
Snacks
One formal outfit for professional meetings
One semi-formal outfit for attending the theater
* Upon arrival, international students are provided with a linen pack containing a set of bed sheets, a pillow, a blanket, and a towel. They are also taken to a local supermarket to get personal hygiene articles and snacks.
We also suggest all students pack the following items:
Personal computer/tablet (the entire campus is wireless)
Comfortable shoes
A light jacket
An umbrella
At least one formal outfit (if attending a church service on Sundays)
A small padlock
A personal first aid kit 
All rooms are equipped with a miniature refrigerator. Microwaves are available in the kitchen on each floor. Students are allowed to bring a low wattage microwave as well as small televisions. Students are not allowed to bring appliances with external heating elements e.g. hot plates or George Foreman grills.
Check-Out Information
Students are encouraged to leave the program as soon as they have taken their last final exam. 
| | |
| --- | --- |
| First Session | Second Session  |
| Date | Date |
| June 26 at noon | July 24 at noon |
Weekend Leave
Students are encouraged to stay on campus for the entire program in order to benefit fully from the authentic residential college experience. However, students are permitted to check out during specified time windows during the week and weekend for appointments or family events.
Parents/guardians must first complete a Leave Form at least 24 hours prior to student departure. Once the request has been approved, both student and parent will receive an automated email notifying them of the approval.
Students are responsible for checking out with the on-duty counselor in the RC South front lobby during their selected departure window. The following departure times are available:


Monday-Thursday, 6:00-7:00 pm

Fridays, 1:00 pm-3:00 pm

Fridays, 6:00 pm - 8:00 pm

Saturdays, 8:00 am - 10:00 am

Saturdays, 4:00 pm - 6:00 pm

Sundays, 8:00 am - 10:00 am

Students are expected to return promptly within their selected return window and check-in with the on-duty counselor. Return windows are:


Monday-Thursday, 7:00 - 9:00 pm

Saturdays, 3:00 - 5:00 pm

Sundays, 9:00 - 11:00 am

Sundays, 3:00 - 5:00 pm
To be clear, students are not permitted to leave campus without family permission, staff approval, and checking out with the on-duty counselor. Checking-out and in within the pre-established departure/return windows ensures there will be a counselor on-duty in the lobby. Students returning late or returning without checking in may be sanctioned for disrupting the counselors' duty schedule.
Meal Plan
Summer College students will be enrolled in a comprehensive meal plan with a flexible spending account (Ole Miss Express). Students will have the following meal plan loaded on their Ole Miss ID card:
42 Rebel Market meals (2 meals a day, Monday-Friday)
$128 Ole Miss Express cash (flexible spending)
Rebel Market. Students will use their meal plan at the Rebel Market. The Rebel Market is an all-you-can-eat cafeteria with a variety of food stations, including Asian fusion, grill, home cooking, pasta and pizza, and a salad bar. Gluten free and vegan options are also available.
Ole Miss Express. Express cash is a flexible spending account with a declining balance that students can use for a variety of purchases. Express cash is recommended as a supplement to the meal plan for small meal purchases, such as breakfast. Express cash can also be used for books, laundry, vending machines, and restaurants on campus and select locations in Oxford.
Weekend Meals. Meals on the weekend, off campus meals, and snacks are not calculated in the above meal plan. Students will need extra food money to eat off-campus and/or while on weekend trips.
Health and Safety
The welfare and safety of all of our students is the Office of Pre-College Programs and the University of Mississippi's top priority. We take safety very seriously and have policies and protocols in place that aid in the prevention and in the occurrence of emergency situations.
Health Care
For non-emergency health care, Summer College students have access to the V.B. Harrison Student Health Center located on campus. The Student Health Center is open Monday-Thursday 8:00 AM to 5:00 PM and Fridays 9:00 AM to 5:00 PM.
"Urgent Care" clinics are located throughout Oxford and are a good option when the Student Health Center is closed (e.g. weekends and after hours).
For emergency health care, students will be transported to the North Mississippi Baptist Memorial Hospital Emergency Room. Non-emergency and emergency contact numbers will be provided at orientation.
Activity Calendar
Summer College students participate in numerous evening and weekend activities and community programming. Below is an example of activities planned during a typical summer term.
Sunday
Monday
Tuesday
Wednesday
Thursday
Friday
Saturday
May 24
Lott 1 Move-In
25
Lott Classes Begin
Meet Your Counselors
Community Time
26
Community Time
27
Community Time
28
Physical Activity
29
Bowling and Movies
30 Double Decker Bus Tour
31
1
Cultural or Recreational Activity
2
College Prep Session
3
Physical Activity
4
Skills Session
5
Social Event
6
Waterpark Weekend
7
8
Cultural or Recreational Activity
9
Financial Aid Session
10
Physical Activity
11
Skills Session
12
Free Afternoon
13
Staycation for Lott Hosted by Counselors
14
15
Cultural or Recreational Activity
16
College Admissions Info Session
*Includes Honors College
17
Physical Activity
18
Last day of classes for Lott 12
19
Lott 1 Depart for Washingon, D.C.
20
21
Lott 2 Move In
22
Lott 2 Classes Begin
Community Time
23
Community Time
24
Physical Activity
25
Lott 1 Return from D.C.
Skills Session
26
Lott 1 Departs
Bowling and Movie
27
Double Decker Bus Tour
28
July 29
Cultural or Recreational Activity
30
College Prep Session
1
Physical Activity
2
No Class
July 4th Celebration
3
Social Event
4
Waterpark Trip
5
6
Cultural or Recreational Activity
7
Financial Aid Session
8
Physical Activity
9
Skills Session
10
Free Afternoon
11
Staycation for Lott Hosted by Counselors
12
13
Cultural or Recreational Activity
14
College Admissions Info Session
*Includes Honors College
15
Physical Activity
16
Last day of classes for Lott 12
Skills Session
17
Lott 2 Depart for Washington, D.C.
18
19
20
21
22
23
Lott 2 Return from D.C.
24
Lott 2 Departs
25