The Friends of the University Museum and the Academic Traveler present…Crystal Bridges
April 4-6, 2013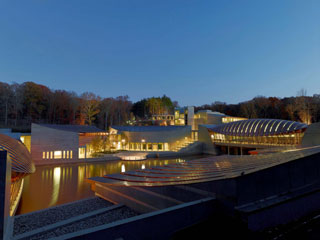 The Friends of the University Museum, in conjunction with the Academic Traveler, present a cultural excursion to Crystal Bridges Museum of American Art in Bentonville, Arkansas. Praised in the New Yorker, The New York Times, and The Washington Post, this is "the most-talked-about new museum in the United States in a generation." Travelers will have the opportunity to visit the Arkansas Art Center and the Clinton Presidential Center in Little Rock, on the way to and from Bentonville.
Download a printable registration form. [.pdf]
Travelers will:
The tour coordinator for Crystal Bridges excursion is Laura Antonow, former designer at the Solomon R. Guggenheim Museum, adjunct assistant professor of art at The University of Mississippi, director of the Academic Traveler program, and Friends of the University Museum board member.
Priority registration for University Museum Members extends until Friday, March 1. After March 1, registration is open to the public. The general registration deadline for the Crystal Bridges trip is Monday, March 18.
The program fee is $485 per person (double occupancy).
Included in the program cost:
Pre-departure educational material
Pre-departure lectures
Accommodations and porterage at the 21c Museum Hotel in Bentonville, Arkansas
Group museum admissions and tour fees
Ground transportation to and from Oxford via motor coach
Excluded from the program cost:
Travel insurance
Meals, other than those listed above
Tips
Optional supplements:
Questions? contact Laura Antonow at (662) 915-6511
Calendar
2013 Adventures
Past Adventures