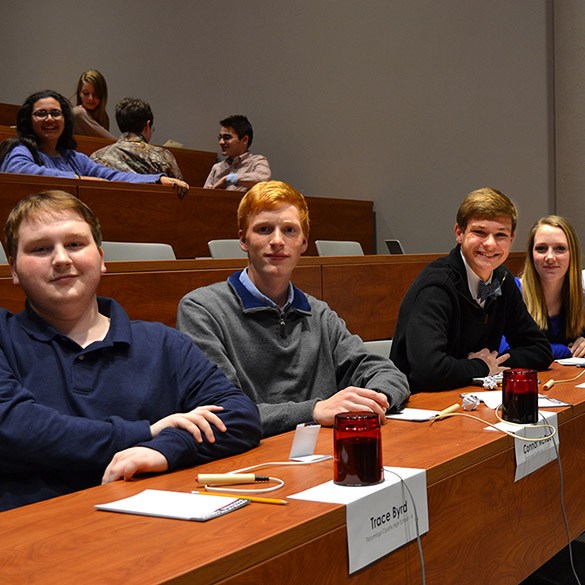 The Ole Miss Brain Brawl tournament, sponsored by the Division of Outreach and Office of Pre-College Programs, is an annual quiz bowl tournament for the state of Mississippi and neighboring schools in the Alabama, Arkansas, and Tennessee areas. This tournament welcomes 36 teams from these areas to compete in a fun and scholarly atmosphere.
Brain Brawl's setup is a Round Robin format with brackets separated by class divisions based on school size. Teams compete in their class bracket and overall tournament championship.
Competition Type: Round Robin, Single Elimination Championship
Sponsor: Office of Pre-College Programs, Division of Outreach and Continuing Education
Registration – 7:45 to 8:30 AM (in the lobby of Lamar Hall)
Round Robin Rounds:
8 brackets, 6 teams each, 5 rounds
| | | |
| --- | --- | --- |
| Round | Time | Description |
| 1 | 8:30 to 9:10 AM | (Everyone plays) |
| 2 | 9:10 to 9:50 AM | (Everyone plays) |
| 3 | 9:50 to 10:30 AM | (Everyone plays) |
| 4 | 10:30 to 11:10 AM | (Everyone plays) |
| 5 | 11:10 to 11:50 AM | (Everyone plays) |
Lunch Break – 12:00 to 1:00 PM
Championship Rounds (Single-elimination)
| | | |
| --- | --- | --- |
| 6 | 1:00 to 1:40 PM | (8 teams, 1 from each bracket and 2 teams to be decided by ave. points) |
| 7 | 1:40 to 2:15 PM  | (4 teams who won in round 6) |
| 8 | 2:20 to 3:00 PM  | (4 teams, 2 who won in round 7 vying for 1st and 2nd place and 2 who lost in round 7 vying for 3rd and 4th place) |
Awards Ceremony – immediately after Round 8 matches are completed
Registration is a two-part process – the online registration form and additional documentation. Both parts must be submitted to our office before a student is confirmed for enrollment in the program.
Register Online

Step 1: Go to the online registration portal.
Step 2: Click "Add to Cart."
Step 3: Enter the Student's Information and click "Continue."
Step 4: Review your Cart Information and click "Checkout."
Enter your email address and click "Continue Unregistered."
Select the appropriate payment method and follow the prompts to complete the payment transaction. If you have a discount/scholarship code, you can enter it on the right side of the page and click "Apply."
Step 5: Enter the Parent/Guardian and Emergency Contact Information. Click "Submit." You will receive an emailed receipt and confirmation of registration. Please retain a copy of this receipt for your reference and tax purposes.

Submit Medical Form

We value the safety and well-being of all our participating students. In the case emergency or medical attention is required, ALL camps and programs require parents to submit medical forms on behalf of the student. Please DO NOT forget to return this form to our office as this will hold up the registration process for your student. If you have already submitted the medical form for a camp this summer, you will not have to submit it again. We do not retain medical documentation from previous summers.
Step 1: Download and complete the Summer Medical Form (at top of page) with the appropriate student and parent information.
Step 2: Attach a copy of:

Student's insurance card,
Parent's driver's license
Shot records with the last Tetanus Immunization or Booster Shot, and
Any other medical documents needed to seek treatment

Step 3: Send the form and attachments to our office at: Outreach and Continuing Education, Office of Pre-College Programs, The University of Mississippi, P.O. Box 1848, University, MS 38677-1848.

For the security of you and your student's information, please do not email or fax medical forms to our office. We request that you mail or bring the forms to our office.

Submit Agreement

The Office of Pre-College Programs has set guidelines and rules in place for the safety of the students participating in our camps and programs. Please review these guidelines and rules and discuss with your student(s) before the first day of the program. The Agreement Form is available at the top of the page.
Tournament registration will begin at 8:00 a.m. and will end at 8:50 a.m. in the lobby of Lamar Hall. All teams must check-in at the registration table before competing. Round One will begin promptly at 9:00 a.m. If a team arrives more than 5 minutes late to a match, the match will be automatically forfeited.
In the Round Robin portion of the tournament, each team will play another team in the same bracket. Since there are 6 teams in a bracket, every team will play against 5 other teams. At the end of the Round Robin, the team in each of the six brackets with the most wins will move on to the Championship Rounds. The other two spots will be filled based on number of points averaged per round.
The Championship Rounds are single-elimination. Awards will be given for 1st, 2nd, 3rd and 4th places. Lunch will be on your own.
For additional information, please contact:
Address: Outreach and Continuing Education, Office of Pre-College Programs, The University of Mississippi, P.O. Box 1848, University, MS 38677-1848
Phone: (662) 915-7621
Fax: (662) 915-1535
Email: competitions@olemiss.edu